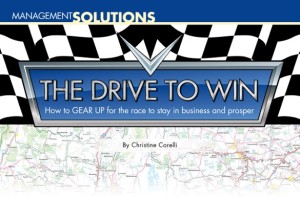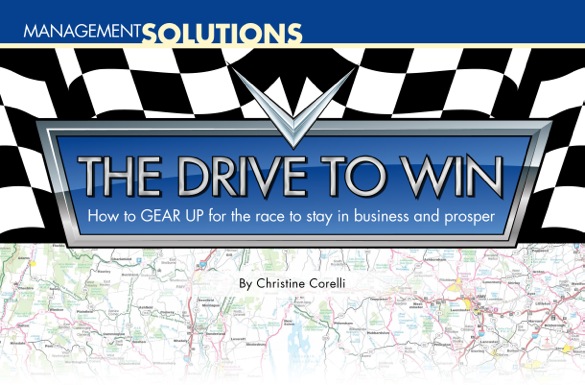 Considering today's challenging business climate, unstable  economic conditions, more cost-conscious customers, and ferocious competition, you can't help but wonder: "In the long road ahead, who will come out as a winner?
When the dust settles, there will be ten characteristics that identify businesses organizations that stood the test of time. These companies employed sound business practices that created and sustained success and ensured business development even in the most challenging business climate. Several years from now, the following is what will be said of them:
1. They slowed down in order to speed up. They stopped what they were doing and conducted strategic planning sessions. The smartest people in their company participated in these sessions, regardless of title or rank. They looked at their company's business operations as if they were unbiased outside consultants.
Together, they acknowledged the harsh realities their companies was facing, and identified actions that would help drive business growth and ensure long-term profitability. They rejected "business as usual", fully realizing they would likely have to shift gears along the way. They identified ways to cut costs, but not to the extent that cost cutting would lower the level of service they needed to provide.
They addressed their organization's strengths and weaknesses, and identified critical action steps along the way to achieving their goals. They devised and implemented relationship strategies aimed at helping their sales teams win over their competitors' customers. They focused on positioning their sales staff as their customers' indispensible business partners.
Most importantly, they made a group commitment to meet their challenges head on. The vowed not get stuck in the past, and to help all employees become positive about the future. To ensure regular commitment to the mission at hand, they held periodic retreats to evaluate progress.
2. Complacency was their enemy. Successful companies challenged the Status Quo and took risks – not frivolously, but supported by rational decision-making.
They conducted research on what top performing companies were doing, encouraged idea-sharing among employees, and many times worked with an outside consultant.
They adopted even bolder marketing and advertising strategies, branded their customer service, and competitively funded their communications campaigns. They reinvented their entire business to become more nimble, more flexible, and more customer focused.
While other organizations failed to add the Green Movement to their "must-do ASAP list," the winners recognized the Green momentum was not about to subside. They created a green program, appointed someone to lead it, promoted it in their marketing and public relations campaigns, and gave their sales people something more to talk about. Most importantly, they did the right thing for their employees, community, and the planet.
3. They consistently sought and implemented new ways to add value for their customers. They realized and exploited the fact that much of the value they provided to customers was the superior knowledge they had to offer. They became value-added organizations, knowing how important their expertise was to their bottom line. They helped their customers far more than any competitor, knowing that in tough times, customers appreciate it.
Some of the winners discussed in this work used the Value Management Objective Process (VMOP), in which performance criteria are set and evaluated by their customers themselves. They asked customers: "How can we provide more value?" They reached agreement on priorities, actions, and outcomes. They established a VIP program for loyal customers that emphasized increased value and made these select customers feel special.
4. They got serious about customer service. Every single aspect of the customer experience was analyzed. Service flaws were identified and eliminated. Systems and procedures were streamlined to make it easy for customers to do business with them. Product support staff knew their performance was critical to the success and profitability of their organizations. Management made sure they understood their customers' business in order to anticipate their needs. They consistently brainstormed and implemented ways to improve their customers' experience and "up" the Wow Factor, keeping in mind that no detail was too small. Teams were put into place to assist in these areas and in the establishment of a "Sales-Service Excellence Culture,"—one in which every person is dedicated to helping sales through service excellence and giving their full support to the sales team.
Sales, marketing, and customers service departments worked hand-in-hand. All employees were aligned with the company's competitive strategy.
Together, the company and its people developed an obsession to deliver their best performance–with every customer, every day. They developed a reputation for consistently exceptional service. Customer confidence increased, business increased, and customers became loyal advocates who helped spread the word.
5. Technology helped them become faster than their competitors and closer to customers. Social media was not ignored as a passing fad. While many companies were too focused on the bottom line and didn't want to think about social media, forward-thinking companies were early adopters and consistently utilized it for selling, marketing and advertising their organization. Creativity was applied with each and every tweet, blog, Facebook post and You-Tube video. Their websites were far superior to their competitors and optimized for search engine placement. Video clips were on their main page and throughout their site. No stone was left unturned.
6. They became "learning" organizations and learned faster than their competitors. They were constantly striving to improve their skills and master their craft. Their sales teams studied and mastered every single aspect of "Sales 101″ and were provided with advanced sales training on negotiation, sales communication, and presentation skills. They were masters at building relationships with potential and existing customers.
Leadership training was provided to ensure everyone would lead in the same way. Sales managers learned how to manage and motivate their teams. The companies did not take for granted that front-line employees knew how to serve customers; they trained them in all critical areas. Role-playing was conducted during slow hours, and by making it "fun", employees in these successful organizations actually looked forward it.
7. Every person in the company lived and breathed its core values. All leaders and employees consistently demonstrated and operated from the core values of honesty, integrity, teamwork, respect, excellence, accountability, social and environmental consciousness, health, safety, family, and other values intrinsic to the company's culture. Leaders recognized that employees observed their actions and behaviors during challenging times. They led by example, spoke with confidence, and set the tone for their employees to follow. Sales managers recognized they were accountable for sales results and made sure they were available to help sales reps. They worked with each individual sales person to review his or her" pipeline" and help close deals.
8. Executives and managers treated their people the same way they treat their best customers. Setting a good example as a servant leader was a strong key to their success.
They fully realized that Businesses don't do business. People do business.
It is the people in a company who will or will not carry an organization into a successful future.
Dynamic leadership, teamwork and employee involvement became organizational cornerstones. Reward and recognition (including unexpected small monetary rewards for customer service staff) become part of the culture. These companies had a Zero Tolerance for Bad Bosses. They knew that having great bosses and creating a great place to come to work each day was the best way to keep people motivated and performing at their best.
To make sure their people were happy, they conducted periodic, simple yet effective employee satisfaction surveys. After analyzing the survey results, the winning firms identified areas for improvement and made a commitment to their workforce to make the improvements needed. Lip service was never allowed.
Action consistently occurred.
9. Execution was a strong part of their competitive strategy. Businesses that created and sustained success recognized that knowing what should be done and actually doing it are two very different things. They mastered the art of execution and established specific criteria for measuring excellence and ensuring accountability. Managers and employees were held to established service standards in every aspect of every role.
10. They kept their eye on the prize. They had only one goal – to emerge from the fray as the winner, with their business stronger, more vibrant and, more prosperous that before, and with solid prospects for continued future growth and success. Successful companies took all of these steps and many, many more—including strategies and tactics that helped them gain marketshare.
You've Seen the Future—So What Will You Do?
The question you should be asking now is, "In the long run, will my company come out as a winner–gaining market share, growing and prospering; capturing and keeping the competitions customers?"
Am I, as a salesperson and leader, doing the things that will translate into personal and business success.
If you're not sure of the answer, get moving on these ten important strategies and additional ideas you can obtain from the combined brainpower of your staff to help ensure your success for the long run. Business development doesn't just happen by itself. It takes the will power of an entire organization to succeed and that starts at the top.
©Copyright, 2011 Christine Corelli & Associates, Inc.
Christine Corelli is the author of five business books including the best selling Wake Up and Smell the Competition . Her newest book release, Capture Your Competitors' Customers and KEEP Them, sold out on the first print run in two weeks. She is an in-demand conference speaker and seminar leader on topics for business excellence. To learn more visit www.christinespeaks.com, or call 847 581 9968.
Need a speaker on this topic?
Or, let's brainstorm! Call (847) 581-9968.
to learn how Christine can partner with you to make your next
meeting, conference, or workshop a huge success.