Get the FREE MEETING THEME OR CONFERENCE THEME You've
Been Looking For! Review These Free Meeting Theme Ideas


TURNING VISION INTO ACTION
SHOPPERS ARE GOOD. BUYERS ARE EVEN BETTER
TAKING A FRESH LOOK AT YOUR BUSINESS / HOW YOU SELL
EVOLUTION THROUGH INNOVATION
SELLING TO THE SHARK TANK
THE AMCO ACE INITIATIVE –
Accountability Creates Excellence
RACE TO SUCCESS –
Revenue Accountability Customer Service Excellence 
FOCUS ON THE FUTURE –
Forward Thinking
Optimistic Attitude
Customer Service Excellence
Urgency to Execute
Success as a Unified Team
Hope you obtained a few ideas for your meeting or conference theme. Want to know what the Number One theme is for 2018?  Call us. Or…Consider joining these organizations and over 7,500 others who purchased our Themes Handbook with 600 more ideas and a FREE Meeting Planner Guide. 
---
For More Meeting Themes – the Theme Ideas Downloadable Handbook
– Perfect to Help you Find a Great Meeting Theme for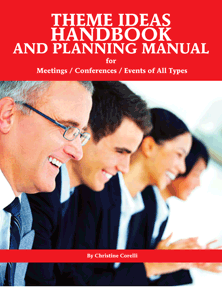 Meetings of all types
National Sales Meeting Themes
Annual Employee or Dealer Meetings
Corporate Initiative Themes
Staff and Team Building Themes
Conference Theme Ideas, Convention Theme Ideas
Reception, Banquet, Customer Event Themes
Business Themes for any other Event
Corporate Retreats
The RIGHT MEETING THEME can make the difference between a mediocre meeting and an energizing and memorable experience!
Now with over 600 on-target Theme Ideas to review immediately. 100% Risk-Free Guarantee! PLUS… "how to" tips, techniques and worksheets on "How to Choose an Effective Theme" and "How to Incorporate You Meeting Theme Throughout Your Event and Your Organization"
ORDER NOW TO CLAIM A FREE BONUS…
A "Meeting Theme Planning Guide"
This guide will help you choose an effective theme for your next meeting, conference, or other event! It will also help you to integrate your theme into your meeting or other activity! Includes meeting objective and theme development worksheets, plus a PDF on How to Make Your Meeting Memorable.

Need a Great Keynote Speaker or Break-out Session Speaker?
Book Keynote Speaker Christine Corelli. She Will Expertly Incorporate Your Meeting Theme Throughout Your Presentation.  Or, Use The Title of One of Her Books as Your Meeting Theme.  "Wake Up and Smell the Competition" is the most popular. 
E-mail gene@christinespeaks.com and we'll tell you more on how to partner with keynote speaker Christine Corelli to make your meeting, conference, or sales meeting a huge success. Or, call Christine Corelli directly to brainstorm on your meeting theme! (847) 477-7376  – Christine's Programs – https://www.christinespeaks.com/programs
---
Review Posts and Valuable Articles on Christine Corelli's Blog

A Great Meeting Theme or Conference Theme
Can Make All the Difference 
Whether you are seeking great meeting theme, conference theme, or sales meeting theme ideas, or would simply like to use one of the articles on Christine Corelli's blog, you find everything you need right here. Contact Gene Leigh, Director of Marketing: gene@christinespeaks.com for more information.