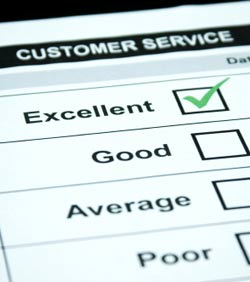 I have had the privilege of working with many companies who are known for service excellence – the award-winning Caterpillar dealer, who makes his people role play during down time and uses a state of the art service measurement tool that measures every single aspect of service excellence – including the level of service executives and managers provide to employees, the top producing wealth management firm in Texas that gives clients the impression they are walking into the lobby of the Ritz-Carlton when entering the company's elegant office and are greeted by the company's "Director of First Impressions;" American Honda, whose employees rave about how well they are treated by their company; the Harley-Davidson dealer that holds short meetings every Friday morning before opening time to "talk-up" customer service and get people pumped up for sales … and so many more. These already outstanding organizations ask me to work with them because continuous improvement is one of their company's core values.
Lessons in Customer Service
There are lessons in customer service all around you. Some companies go to extremes. For example, Zappos, the highly successful on-line shoe store, offers free returns with no questions asked. When they were out of stock of a shoe a woman wanted to wear at a wedding that weekend, they sent a rep to a rival brick and mortar store to purchase the shoe, and sent it overnight. They even sent flowers to a woman who ordered 6 pairs of comfortable shoes because her feet were damaged by harsh medical treatments. Women expect you to go to extremes for them when they get that type of service from another business.
Be Observant of Customer Service
Open your eyes and see. Be observant of exceptional customer service and poor customer service. Make sure every person in your company knows the difference.
It's never enough to be in business; it's the service you provide.
Customers are not just looking for a great product or service.
They want, need, and expect the highest level of customer service.
They want it from every business where they spend their hard-earned money. This holds true whether you sell b2b or b2c. It is a demand your company can't afford to ignore.
Want to create a service excellence culture? Call (847) 477 7376. Or, buy this book: Capture Your Competitors' Customers and Keep Them