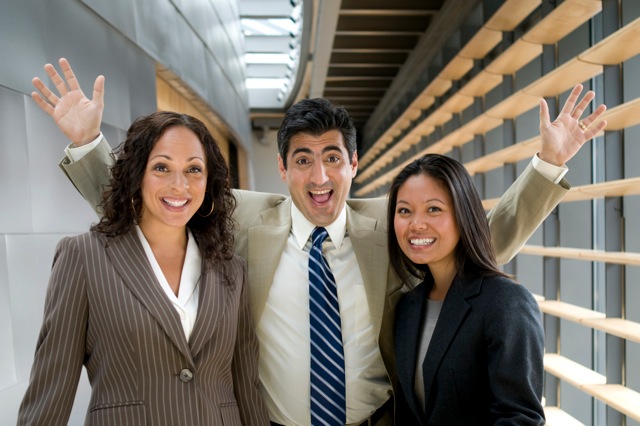 "Whose job is it to keep you motivated?"
When employees are asked this question, you might think the response would be "It's my job to keep myself motivated." But, in reality, the most frequent and correct answer is, "It's my boss's job."
Surprised? Don't be. In an ideal world, motivation would come exclusively from within. The reality is that it's up to management to make sure there are high levels of motivation and employee satisfaction in their company. The reasons are obvious – higher productivity, less turnover, improved teamwork, increased idea sharing, and more. One of the biggest reasons to make sure your company has a high level of employee satisfaction is that it is one of the best ways to obtain the highest levels of customer satisfaction. Numerous studies and books have been written on how employee satisfaction is directly related to customer satisfaction.
Here's a smart formula to apply:
Employee Satisfaction
Customer Satisfaction =
Long Term Profitability
The Bad News
Recent research has revealed that employee satisfaction has dramatically declined over the last twenty years. No one needs a lesson on why this has occurred, but it is alarming. No organization can create and sustain success in today's world of fierce competition and a volatile economy without high levels of employee satisfaction.  Your employees will be the ones who will or will not help carry your organization into a more successful future.
Ambassadors or Assassins?
Your employees develop the reputation of your company. If there is a high level of employee satisfaction, your employees can be your ambassadors. If there are not high levels of employee satisfaction and even one shows indifference to a customer or behaves in an unprofessional manner, they can be your assassins.
What You Can Do to Increase Employee Satisfaction
There are many ways to increase employee satisfaction in your company. A few are:
Improve employee relationships between employees and their immediate boss
Increase management recognition and reward for employee job performance
Direct all leaders to say "thank you" and express appreciation every week
Improve communication between employees and senior management to ensure employees understand your company's values, vision, mission, and competitive strategy
Ask for and listen to employees' ideas to improve productivity, customer service and employee satisfaction and implement those that will work
Keep employees informed of what is going on in the business. Tell them what you know, and what you don't know.
Create a culture of excellence – where dynamic leadership, open communication, teamwork, internal customer service excellence and employee involvement exist
Establish a Zero-Tolerance for Bad Bosses
Weed your garden. Get rid of Under-performers. Your high performing employees are probably wondering why you are putting up with them.
Make sure an employee's immediate boss displays care and concern for the health, safety, and well being of those they lead.
Implement ways to help employees manage stress and avoid job-burnout
Make people feel they are working WITH you, and not FOR you.
First Things FirstFirst, you need to clearly identify where your company needs improvement in employee satisfaction.While most companies conduct expensive and extensive Employee Satisfaction Surveys that take a great deal of time and money, a Simple Employee Satisfaction Survey can reveal where you excel and where you need to improve employee satisfaction.This Simple Employee Satisfaction Survey lists 21 questions that will provide answers to your challenge of employee satisfaction.  And it's AFFORDABLE. – $9.99

   To order a PDF, delivered upon clearance of your credit card,
Need a speaker on this topic?
Or, let's brainstorm! Call (847) 581-9968.
to learn how Christine can partner with you to make your next
meeting, conference, or workshop a huge success.