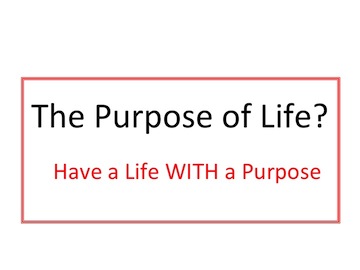 We each have a life to live – and hopefully one that has meaning, purpose, and direction. Our work and our jobs are important, but it should never be what defines us. What defines us is what kind of person we are.  
Think of it this way: You are behind the wheel of your life. Always take the high road – the one most honest, ethical, giving, sharing, and caring. Be the kind of person God would want you to be. As you drive, give others the gifts of self-esteem, laughter, and the wisdom your have obtained on that high road. Be the best father, mother, friend, neighbor, partner, boss and coworker you can possibly be. Shower those you love with love. Do unto others. Respect people, animals, our beautiful blue planet called Earth, and the environment. Keep a smile on your face even when you don't feel like it.
Then, you will have a life with a purpose.