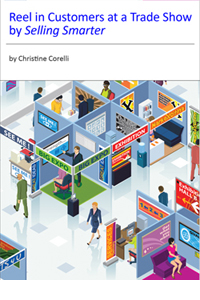 Attending your industry trade show–especially during this shaky economy-could be the best business move you will ever make. To keep going in business without losing your footing, you need to have complete, up-to-date information about what is happening in your marketplace. In addition, you need to make connections and meet with people face-to face to really determine what is going on in your industry.
Your industry trade show is by far the best vehicle to get the latest feedback, disseminate the most current information, and stimulate ideas that will help you to help your company to move in the right direction. With these new ideas, you will be better equipped to make educated decisions on moving your retail business forward.
Now more than ever, you and your team need to get charged up to tackle the challenging situation at hand. If you fail to attend you may only focus on the negative news you hear each and every day. Prospects will look very dim. Your trade show is the only real venue you have to tap into what the situation really is. Even more, it allows you and your team to network and initiative new business relationships while cementing and enhancing existing relationships-actually in often the most cost effective way.
More Reasons You Should Attend
Trade Shows Stimulate Creativity. Another good reason to attend the show is that, as with every other business professional today, you are under pressure and are worried about our volatile economy. Feeling overwhelmed, you would benefit from getting into an environment that stimulates creativity. Attending your trade show will put you in that energizing environment and provide the inspiration to help you to take a more creative approach to your job.
Visibility is as Important as Ability. Even more important, if you have consistently attended your industry trade show in the past and suddenly stop, your absence may cause your colleagues, suppliers, and worse – your competitors to think your company may be failing. You may also miss out on opportunities to purchase the best retail solutions and be in on a great idea to help your business.
Tips to the Trade
The following are a few tips that can help you achieve the most when attending a show:
• Register in advance. Pre registration is always a smart move.You can often obtain an "early-bird" rate and be able to avoid standing in long registration lines. In addition, you will receive information on the show before you leave home.
• Maximize your time. Prepare in advance. Time is at a premium at a trade show. Review the list of exhibitors and what products or services they offer. Decide what exhibits you want to be sure to see. Make a game plan for exhibit "must-see's" and book appointments in advance. Then, make a list alphabetically, so that you can look them up quickly and write the booth numbers down. Then, write them in sequence of the aisles where they will be located. There will likely be exhibitors who are offering new products and services that may benefit your business. Be sure to be "in the know" and visit these vendors. Create an "A" list of vendors, attendees, suppliers, or colleagues you want to be sure to see at the show. Make appointments with them in advance. Make plans to meet them somewhere near the entrance of the show or anywhere that it will be easy you to find each other. Take their cell phone number with you so that you can confirm the appointment when you arrive.
• Walk with a purpose. Take the time to walk the show thoroughly and completely so you will get the biggest bang for your buck. Carry a small note pad and take as many notes as possible. Record information and ideas you want to implement after the show.
• Keep those business cards in your pocket. Exhibitors will be able to record your contact information if requested, but be sure to carry business cards in your right pocket. If you pick up someone's card, be sure to write notes on the back. Otherwise, when you look at it after the show, you may not remember why you have this person's card.
• Look for "Show Specials." Some exhibitors will offer special pricing or value-added packages if you place your order at the show. Some may extend the offer thirty days. Be sure you are aware of these opportunities; take advantage of those that make sense for you and your company.
• Knowledge is power. Gather as much information as you can. Find out what new solutions are available to you that can help you to expand your retail business and increase the 2 "P's"–productivity and profitability. During the show, talk to show managers and industry experts to obtain their perspective on what is occurring in the industry.
• Take advantage of educational sessions. Education offers excellent educational sessions that you should make every effort to attend. Ask questions and learn from industry experts. You just might discover one small thing that can make a big difference between success and failure of your business.
• Arrange an Idea-Exchange. Consider arranging a meeting in a suite with other retail solutions professionals to ask what they are doing in their organizations and what they see for the future. Think of it as an idea exchange.
• Work a room wisely. Lunches, receptions, hospitality rooms, and similar events are not just for eating, drinking, and making merry. They also provide the best possible networking opportunities. RetailNOW has exceptional networking events you can't afford to miss. Be the first person to enter the room and the last to leave it. Doing so will dramatically increase your opportunities to meet and greet others. Position yourself at the "Center of Influence," (the center of the room and not near the food and beverage areas). This way, you can see who is coming through the door and keep your eye out for those VIP's you have wanted to meet.
• Form strategic alliances. Another tip of the trade and most definitely a good reason to attend the show is you may find an opportunity to form a strategic alliance with another organization. Many are formed at trade shows. Begin sowing the seeds for collaboration. Alliances can make a big difference in the overall health of your retail organization.
• Leverage vendor expertise. While at the show, talk with your vendors. Ask for their advice on what other retail solutions professionals are doing and what action you should be taking to not simply survive, but prosper in this economy.
• Take action. Going back to "business as usual" won't cut it. After the show, your feet will be aching, but your mind will be creatively charged. Now's the time to make smart decisions! Prioritize three actions you will take immediately after the show. Then, identify five critical success factors for your business and what actions you will need to take to achieve your goals. In today's world, execution must be a strong part of your competitive strategy. Put your ideas in writing and share them with your team.
• Get the industry advantage. If there was ever a time to get going and start doing, it's now. Don't miss RetailNOW, where the industry meets. It will give you and your company that boost you've been looking for.
Need a speaker on this topic?
Or, let's brainstorm! Call (847) 581-9968.
to learn how Christine can partner with you to make your next
meeting, conference, or workshop a huge success.