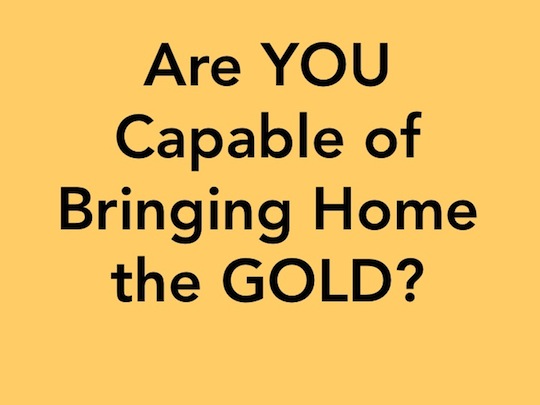 Want to achieve personal and professional success?
Of course you do!  Then take a look at these similarities of Olympic Athletes and a dynamic business professional. 
1.  Must be disciplined, dedicated and committed to win
2.  Extensive training / coaching required
3.  Must excel as an individual and also team member
4.  Must know strengths and weaknesses
5.  Can perform under tense or adverse conditions
6.  Must sustain high levels of energy, both physically and mentally
7.  Must be agile and flexible
8.  Must push themselves to the limit to excel and win
9.  Must be in top physical and mental condition
10. Thinks and acts like a champion
11. Organized and disciplined
12. Laser-focused on whatever they do
13. Loves to compete
14. Never forgets the thrill of winning
15. Believes they can win
16. Uses visualization – Visualizes the win
17. Possesses "mental toughness" / emotional intelligence
18. Meets their challenges head on
20. Eats healthy and has healthy habits
21. Has developed habits, rituals, and routines that work
22. Proud of their country, even if they are frustrated with the inability of their government to work together as a team for the   betterment of their country.
23. Have a "for every problem, there's a solution" mindset
24. Deeply care about performance
25. Consistently set higher goals.
The one difference between your life, and that of an Olympic athlete, and I do hope you do have one)  is that younger athletes in training have very little personal time.  They sacrifice a great deal to achieve their dream. Hopefully, you have a personal life, and your dream is to have a great life and make a difference in the lives of others.
Then, you will have achieved personal and professional success!