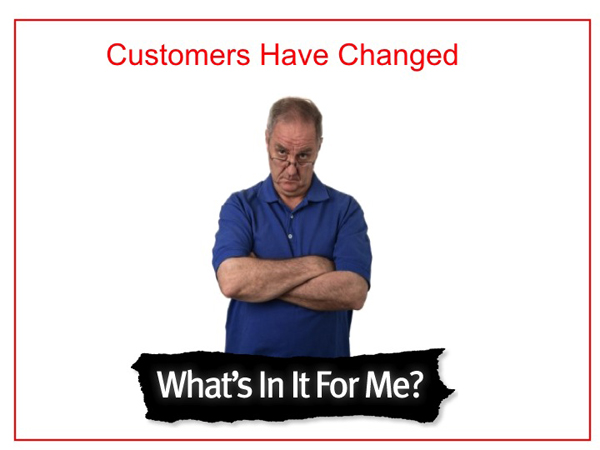 Today's customers have higher expectations, more choices, more service savvy, and they are more discriminating than ever before. But don't worry. The tips you glean from this article will help you to satisfy their demands.
Being the best listener
Perhaps the biggest difference in the way we did business in the past and how we will need to do it in the future is that we will have to be better listeners. Gone are the days when a company could just operate on its assumptions of what the customer wants. We now have to develop ways to ensure that we hear what customers want. We need to be better at listening to uncover ways to make it easier for customers to do business with us.
This is especially true if you want to keep customers. The cost of searching for new business is significantly higher than the cost of retaining existing customers. Therefore, it makes sense to expend as much effort as possible to make sure your customers are happy. If you listen to what your customers are saying, they'll tell you what you need to do to keep their business.
Good listening is for everyone
Most people think listening is for sales people who first have to ask the right questions and then have to listen closely to uncover the way to make the sale. Or they think it is for customer service professionals who resolve customer complaints through careful questioning. Nothing could be further from the truth.
Everyone in the company should be trained to be a good listener. Hard as it is to believe, a person is not just born a good listener. Every individual needs to work hard to develop the skills to "hear" between the lines and understand the nuances of what people really mean when they talk.
Why good listening makes a difference
Most companies in an industry have more or less the same products, so they must differentiate on service (in other words, making the company easier to do business with). In many cases, this is what sets a company apart and is enough to keep customers.
The more times a customer has to call a company back to resolve a problem, the more times she walks the aisles of a store without receiving any assistance, or the more frequently he can't navigate a company's website, the greater the odds the customer will start looking for someplace else to spend his money.
The easier and more convenient a company can make it to do business with them—given that they are providing quality products at competitive prices—the better the chance they will have of being able to keep customers.
What is happening out in the real world?
Case #1: A young woman was shopping around for her first mortgage.  She called three bankers.  One was only available between 7:00 a.m. and 3:00 p.m.  Another sent her a ream of pages to fill out about her assets. The third asked her when it would be convenient to call, and asked her to send bank and 401(k) statements so that he could fill out all the paperwork. Guess who got the business?
Case #2: A construction equipment sales professional sold a machine to a new contractor. Instead of just going over a few safety tips and handing him the safety manual when he delivered the machine, he brought a service tech along who spent an hour going over every safety measure. The company has a perfect record for no accidents on the new equipment.
Case #3: The places to shop for groceries in Glens Falls, N.Y. are all within the same driving distance, have similar pricing strategies, and have the same merchandise—give or take. However, one of the stores decided to distinguish itself in service.
They conducted a phone survey to find out what the shoppers wanted and put the results into practice. Special runners were hired, dressed in bright yellow, whose only job was to "run for the customer." This could include finding last minute items, getting items out of stock, returning items the customer doesn't want, pushing carts out to the car, loading the bags, and even returning the cart to the stand—and never requiring a tip. The attention has paid off with steady customer growth in a stagnant market. The management of this local grocery store understands and applies one of the key principles in business success: make it easy for the customer to do business with you.
Case #4: A middle-aged couple wanted to apply for a new life insurance plan they had heard about. They tried first to go to a few websites to apply online. Frustrated after many failed attempts, they called a friend's agent. The agent sent over a very long questionnaire with a note saying someone would call in the morning to take all of the information over the phone. That was all that was necessary and now they have a new insurance agent.
Case #5: Hotels have simplified the process of checking out of your room. Now, they are seeking to make the check-in process easier. The Clarion Hotel in Stockholm is just one of many hotels testing a Smartphone application that will allow visitors to check in and collect their room key without the need to go to the desk. Guestroom 20X, a new technology in development, was on display at HITEC 2010. One of many things it will do is allow guests to use a ring-tone to open their room. Just think about it. No more hanging around in a long line at the front desk after your long flight. Show me the hotels that are making check-in easier, and I'll stay there.
So many companies; yet still so little listening
Responding to the "voice of the customer" is critical to keeping customers. In my best-selling book, Wake Up and Smell the Competition, (now in its fifth printing and still selling strong), I recount a few examples of "hard-of-hearing" companies.
________________
"Have you ever wondered why the airlines always have negative publicity? Maybe they just don't listen to their customers. Sure, your ticket had "Snack" printed on it, but you held on to the blind hope that you would receive something more substantial than those stale pretzels that make you retain water. Worse yet, your flight is early in the morning so your breakfast consists of coffee and pretzels on an empty stomach. You turn to the flight attendant and say; "I paid $600 for my ticket. Why don't you serve something more?" The flight attendant gives you a feeble answer and tells you that you can purchase a snack—for ten dollars!
________________
Have you ever had the experience of calling your credit card company's 800 phone number expecting to find a live person to help you? You get ten options but oddly enough rarely do you hear: "If you'd like to speak to a customer representative…"
So you try to find a different phone number (you are even willing to pay for the call!) to see if you can get a live person. You spend so much time trying to find a real person that you just give up in frustration. Then incredibly, you get a telemarketing phone call from your credit card company trying to cross-sell insurance. Finally, a live person! You say, "Why don't you have a live person on my account? Doesn't this company listen to anyone?"
You don't have to be a "hard-of-hearing" company
Why don't you just respond to customer concerns? Why don't companies simply do some of the following?
Have live instant messaging so customers can ask your service reps real-time questions through a pop-up window
Include batteries in the packages of kids' toys and electronics
Make more lemon pies on Friday when they know they will be running out by noon on Saturday?
Have a web site that's easier to navigate
Have a phone system that offers callers an option to press "0" for the operator when someone calls your direct line
Give instant rebates at the cash register instead of troubling busy people to fill out forms, attach receipts, place them in envelopes and mail them before being able to get their rebate
Same old story today—companies not listening
Many companies don't realize that in a marketplace with so many choices, it is essential to do everything possible to make it easy for your customers to do business with you. Any difficulty or obstacle that hinders this process will undoubtedly make them run away from you after you have worked so hard to capture them.
Wake Up and Smell the Competition was released in 2000. Five new updated editions followed. It's 2011. Unfortunately, we have not come a long way, baby. We have much to do to start "listening" to what customers want, and making it easier to do business.
Simple ways to make it easy
So what can you do to encourage your customers to stay with you (by making it easy to do business with you) and not drive them to your competitor? Let's start with the basics:
Call people back—no-brainer!
Reality check through the eyes and ears of your customer
Make necessary changes quickly
Make doing business with you a great experience
Work toward every customer saying, "That wasn't too hard." when they complete a transaction
Easy way #1: Ask the right question
The simplest way to know what is needed in your service is to ask the customer. Keep it simple. Just ask this question: "What is one way we could make it easier to do business with us?" You can accomplish this through one-on-one conversations, customer focus groups, or surveys.
Once you get the feedback, hold a brainstorming session with your entire staff (include management to support personnel because anyone can have a good idea, and everyone is a customer somewhere).  Make sure you divide the group so that there are several sub-groups composed of both management and frontline employees. After gathering all the solutions that are generated, implement the best ones.
Easy way #2: Listen to the "Why Don't YOU?"
"Why don't you?" (or similar expressions) requires that you listen anytime a customer offers a suggestion to make it easier to do business with you or indicates a problem exists, such as:
• "Why don't you offer after-hours service?"
• "Why don't you offer a model that fits inside a smaller space?"
• "Why don't you label the panel so that I can operate the equipment better?
• "I hate to be a pest, but the case broke again. Could I have another one?"
• "Why don't you have a 24 hour hotline like XYZ company?"
• "Why don't you provide sales training as well as product training?
• "Why is it so hard to find things in this store?"
• "Why isn't the rental machine freshly painted?"
• "Why don't you include a free oil-testing kit?"
• "Why don't you find a mutual fund that doesn't have such high fees?
• "It would be so great if you could deliver it."
• "Have you ever thought about calling me to remind me?"
Keep this in mind: Whether a customer is boldly asking the question and it sounds like a complaint, or politely offering a suggestion, consider yourself lucky when they tell you how they feel. Most of the time, customers won't even bother to let you know if they have a problem or suggestion. They simply won't come back. Then they'll tell everyone else they know about it. They (and maybe also their friends) will give their business to your competitors.
Remember that any time a customer asks, "Why don't you…?" recognize that it is a strong signal to consider making changes. You need to listen to the customer and then respond appropriately.
Easy way #3: Make it easy to talk to a human being
Don't make your customers search for a way to talk to a live person. If you have an automated phone system, it can be extremely frustrating and impossible to get in touch with a human being.
Reduce the number of prompts in your system. One set of prompts is the limit for customers. If you must have more than one set of prompts, give customers the option of speaking to an operator in the first and subsequent series of prompts.
Have your employees change their voice mail messages each day. If they need to be out of the office, or if they are unable to return calls that day, their messages should say that and provide a back up number for an emergency.
Easy way #4: Keep billing as simple as possible
If you've ever bought anything on Amazon.com or used PayPal to collect funds or make a purchase, you know how easy it is to buy.  All payment processing and billing should be that simple.
Make sure your billing is easy to read, has sufficient detail to justify the cost, and has no surprises! Anyone would get annoyed with even a small service charge added to the bottom line if they weren't informed at the beginning.
There are vendors that can assist you in this area. If you are a small business you could also check into PaySimple.
Easy way #5: Eliminate unnecessary red tape
Unless you are the Federal government, red tape in doing business is unacceptable. That means you should reduce the burden of filling out paperwork, obtaining credit, or waiting for someone else to approve the transaction.
Seek ways to streamline the customer's experience in every way possible. Minimize the number of forms and paperwork the customer must fill out.  Or better yet, fill out the forms for the customer or at least assist them.
By way of example, YearToSuccess.com increased member registration by over 60% simply by requiring only vital information on the member form at sign up, then requesting, but not requiring, the new member to complete the information at his or her convenience.
Easy way #6: Ditch "that's our policy"
When someone is afraid to lose his or her job, the expression he uses is "That's our policy" or "I don't make the rules, I just follow them" or "If I do that for you, I will have to do it for everyone."
Actually, these expressions are sure to make a customer very angry. The sales person should at least make an attempt to satisfy the customer. She should even go so far as to say that she will pass the information on to management. Everyone who is working at the company has a responsibility to help build customer relationships. They take home a paycheck; therefore they should be more vested in the policies of the company for whom they work.
In a recent retail transaction, a customer came in twice looking for living room drapes. She liked a sample pair but wanted to take them home to check the color. The employee said it was not possible because they were on display. The next day, the same customer had the same conversation with a different sales person who promptly took them off display, sold them to the customer and requested that she return soon—either because they did not work, or to order the final quantity. What a difference a day makes! The result was the drapes matched perfectly and the big order went to the salesperson who was willing to help.
Easy way #7: What goes out might come back
In business returns are inevitable. You can't please everyone. But, if you want to keep customers, provide an easy and clear-cut return policy. For example, provide a pre-printed address sticker in the shipment. That way, if a return is necessary, the consumer doesn't have to look up the address, etc. for your company—he just meets all other requirements and slaps the sticker on the box. If you sell smaller products that cost very little to ship, consider providing a prepaid shipment label, so the consumer doesn't have the inconvenience of going to the post office.
Easy way #8: Act like a star; be easy to deal with
In the old days of Hollywood, the studio system allowed steady employment for actors who all knew each other and worked together for decades. All they had to do was act. That's the past.
Today, movie production is a very serious business. When all parties come together, it is for a project with a beginning and an end. Actors may have worked with each other before. Yet, the pressure is tremendous to get the job done as efficiently as possible and on budget. The actors who get hired are those with a reputation for both excellence in acting and being easy to work with. Make sure that you remain flexible, congenial, and easy to work with. There's no room for egos in business.
Easy way #9: Make it easy to complain
When customers have complaints and they run into barriers trying to voice their complaint, they just get angrier and angrier. Adopt a policy in your company: Whoever gets the complaint owns it. Even over the phone, it is that person's job to make sure the customer is satisfied.
Easy way #10: Become a one stop shop or full-service firm
If you have a product that is dependent on another product, or more marketable alongside other complimentary products, then sell those other products as well. If that is not possible, make an arrangement with the other vendor to share services, even price reductions and deliveries, to make it easier for the customer, and more profitable for you.
Easy way #11: Equipment and Machinery Manufacturers! Make it easy for your distributors to sell your product
Distributors sell to end-users, but they are your customers. As margins continue to plummet and interest rates continue to rise, many distributors are less willing to invest in large capital goods, particularly during these uncertain times. Assist in distributor growth initiatives with equity expansion funding. This will expand your business partnerships, and ensure overall brand dedication. Share inventory, help to improve inventory turns, and improve distributors' cash flow.
Make sure your dealer portal has free advertising graphics where dealers can simply drop in their names, and add whatever tagline they want. At your "Sales Schools," or product training events, provide them with training on sales communication, negotiation skills and parts and service profitability. Listen to your dealer advisory group for ideas.
Easy way #12: Follow the leaders
Regardless of the size of your business, go to retail stores like Apple, Starbucks and other well-known retailers (who are continuously profitable—even in a down economy). While there, look at what they are doing to make it easy for customers to do business with them. Then, think about how you can apply it to your own business.
An Apple a day
Personal assistance is the minimum that Apple provides for its eager customers. Go into any Apple store and see for yourself how great the service is and how easy it is to make a purchase. Customers don't have to stand in line to purchase. The same person (a technically trained staffer) who assists them uses high-tech, hand-held equipment to ring up the sale, print out a receipt, and send an email receipt as well. Plus, they offer training for a nominal additional fee. You never leave there without feeling taken care of.
Take one for the road
In another example, Starbucks has launched mobile payment in all 6,800 U.S. company-operated stores (including domestic Target locations), allowing customers to pay for in-store purchases with select Smartphones. The draw for several million cardholders will be the speed, ease, and convenience of using their mobile phones. For Starbucks, the results are…well, what would you do with several million cardholders?
"Today, one in five Starbucks transactions is made using a Starbucks Card…" said Brady Brewer, vice president of Starbucks Card and Brand Loyalty. "With mobile payment, the Starbucks Card platform further elevates the customer experience by… rewarding loyalty and continuing to build an emotional connection with our customers."
In addition to the mobile payment capability, the app allows customers to manage their Starbucks Card account, check their card balance, reload their card with any major credit card (iPhone users can also use the PayPal feature), check their My Starbucks Rewards status and find a nearby Starbucks store with the store locator feature.
For Starbucks, the success of this customer convenience program is evident in sales. Customers loaded more than $1.5 billion on Starbucks Cards in 2010, an increase of 21 percent over 2009, driven in part by the My Starbucks Rewards program that provides benefits to customers who pay with a registered Starbucks Card at participating stores. With the introduction of the quick and easy Starbucks Card Mobile App and the mobile payment feature, customers will find yet another reason to use their Starbucks Card for payment.
Easy way #13: Remember the Golden Rule
Perhaps you are way beyond doing day-to-day retail shopping and are accustomed to the customer care you get from elite specialty shops. But it will behoove you to remember what it was like to shop in a discount store and ask yourself, "How would I want to be treated as a customer?" You would certainly want the most courteous, efficient, and easy service possible.
Do the same for your customers. Finding out what you can do to make it simpler and easier for your customers is the key to increased customer satisfaction and retention. Ease of doing business with your company should be paramount to all activities. Make it your creed.
In Review_________________________
Making it easier for the customer means more rewards for you.
Being a better listener
Today's customers are more demanding than ever. If you won't listen to their concerns, they'll do business with someone who will.
It is cheaper to retain a customer than it is to find a new one.
Customers want to do business with companies that make it EASY.
Good listening is not just for sales people
Too many companies shortchange their customers in the support service department. Don't make your customers sit through an automated phone labyrinth—let them talk to a live human who can answer their questions.
Good listeners aren't born; they are created. Training your employees to become better listeners is an essential step toward better customer service.
If you "listen" between the lines when your customers complain, you will realize they are actually giving you suggestions on how to keep their business!
Going the extra mile
Good ideas can come from any employee. Don't be afraid to ask your whole company to participate in developing innovative customer service policies.
Don't wait until your customers complain to improve your service. Be proactive and ASK them (via focus group, survey, or in person) what you could be doing better.
Companies like Apple and Starbucks utilize high-tech solutions to improve the shopping experience. Investing in new technologies could lead to happier customers and more business.
Becoming a responsive company
Customer returns and complaints are inevitable, so don't discourage them. Filing a complaint or returning a product should be as easy as purchasing.
Encourage your employees to go above and beyond the call of duty. Don't let a stick-in-the-mud "company policy" stand in the way of customer satisfaction.
Remember the Golden Rule! Do unto others by making it easy for them to do business with you.
Need a speaker on this topic?
Or, let's brainstorm! Call (847) 581-9968.
to learn how Christine can partner with you to make your next
meeting, conference, or workshop a huge success.