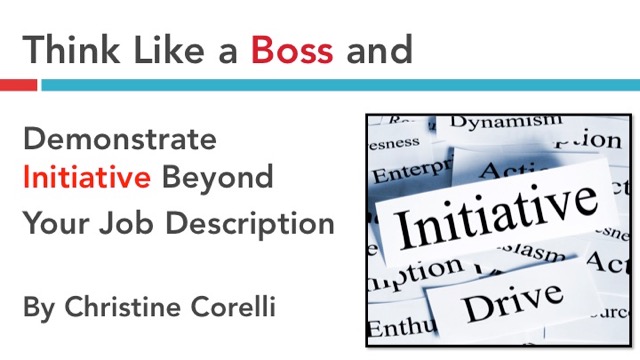 Demonstrate initiative. It's important. You work hard. You do a good job. You want to not only keep that job, but you'd like get ahead. While opportunities for advancement in your company may not be available to you right now, there may be one in the future. Be sure you let HR know that you'd like to advance in your company. Meanwhile…
One way to demonstrate initiative is to think like a boss.
Do you know what bosses really want and need?
They want employees who can –
Think and act in the best interest of their organization
Display initiative beyond their job description
Communicate effectively with assertiveness, tact and diplomacy
Prioritize activities, complete tasks, and get things done
Make the same decisions they would make
Treat customers as VIP's
Demonstrate initiative beyond your job description.
This list could go on and on, but let's focus on that last one:
You Demonstrate Initiative and Leadership When You…
Accept and adapt to changes that occur and help your team do the same
Give your full support to your sales team – without their sales, your job and every employees job is in jeopardy
Come to work each day ready, willing, and anxious to serve customers, your boss, and your team exceptionally well
Stand on your head to help customers
Step in to help a coworker who needs help
Assist in areas that do not fall under your job description
Practice peer support
Understand your boss is under pressure too
Again, the list can go on and on, but for now, we'll focus on this last one:
Think Like a Boss Who Is Under Pressure
Like you, your boss is under a great deal of pressure. Recognize, they must make tough decisions. Don't view your boss with binoculars turned backwards. Don't view your boss as a person from another world. Don't think your boss is different from you. Don't think your boss doesn't have similar problems and similar hopes and dreams. Don't fail to recognize that they too, are overworked and challenged by executives and executives are challenged by owners and stockholders.
Think of your boss with a new perspective.
Have a great day!
Need help in these areas? Call now. 847-581-9968 Or, check out Wake Up and Smell the Competition