Where You Need to Invest in Your Business
Bragging rights are never enough. You can boast all you want about the quality of your product or service, and your great reputation. But if you want to experience business growth and  outdistance your competitors, you need…
Dynamic leadership throughout your organization
Superior sales / business development skills, and…
You need to deliver more value than your competitors. Most important…
You need to deliver it with flawless customer service.
As always, the CUSTOMER will be your final judge and jury.
If you're lucky enough to win them over and you want to establish their loyalty – better yet, advocacy
you need a High-Performance Culture.
Every single person in your company should think and act as your brand ambassadors.
It's the people in your company who make the difference.
Where, Specifically, to Invest in Your Business
Invest in training and development, and establish a high-performance culture!
If you are concerned with the cost, consider how a smart CEO responded to his CFO: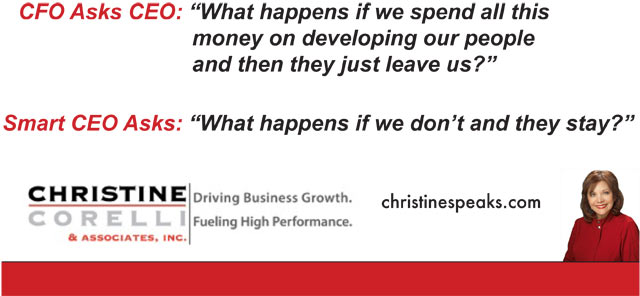 Businesses Don't Do Business – People Do Business!
The most successful business owners and executives Invest in this vital area for business growth and profitability. You can't afford not invest in training and development.  Make it a priority.