A Sales Motivation Keynote or Sales Training Program Customized for Your Sales Team
Forget tough! Today, competition is fierce!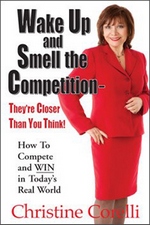 Market forces, consolidation, and tough customers have caused us to apply a more advanced approach to sales. Value-added selling, competitive excellence and superior sales skills are key.
Based on the popular book of the same title, (now in it's fifth printing!) this hard-hitting, "no-holds barred" sales training program will identify how top sales producers are meeting and exceeding their goals in today's challenging business climate.
To Ensure Maximum Results and Benefits Will Be Achieved:
Prior to your program Christine sends questionnaires to your sales team to obtain insight, and identify their specific challenges. Then, she will design your sales training program. In this manner, your team will not have a generic sales program, but one that covers skills most needed.  You will work with Christine to create content that is most relevant to your team.
Potential Content:
Warm up:
Today's Changing World and Why We Must Possess Skills that are Far Superior than any Competitors' Sales Team
Changes Occurring in Your Industry and Opportunities for Great Sales People
Identification of Sales Teams' Biggest Challenges (As determined by confidential questionnaires sent prior to the training)
Quick review of "Sales 101" (Salespeople can never hear that stuff enough!)
Part I:
Internalizing What Customers Want, Need, and Expect
Factors that Impress Customers and Influence them To BUY
Determining Your Selling Style
Part II:
Sales Communication Skills
Communicating the Total Value-Added Solution – You, Benefits
Applying the "C's" to Sales Communication
Listening Skills – What to Listen For
Asking questions – Best Questions to Ask
Applying Powerful Words and Phrases That Influence Customers to BUY
Memorizing Responses to Objections
Closing the Sale
Asking for Referrals With Class and Professionalism
Part III:
Building Profitable Business Relationships
Sharing Best Practices
How To Develop An "Advocate System"
Q & A
Close:
Upbeat Sales Motivation
This program can be presented as a sales-motivation keynote, break-out session, or in a half-day or full-day sales-training format. Like all of Christine's presentations, your program will be highly customized for your business and industry.