Trade Show Sales Success – Trade Show Marketing Strategies – Booth Selling Skills –
REELING IN CUSTOMERS AT A TRADE SHOW BY SELLING SMARTER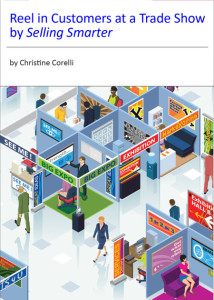 Trade show sales are critical to your success. Exhibiting in your industry trade show is one of the best marketing tactics to physically obtain access to potential and existing customers. It provides excellent opportunities for face to face interactions, forming strategic alliances, demonstrating products, and even writing orders.  If you have the right creative touch, it can even generate instant brand awareness.
On the other hand, exhibiting in a trade show can give you a mediocre ROI if you don't know how to create and execute a smart pre-show marketing and advertising strategy that is superior to any competitor. You also need to excel in trade show selling skills – which are quite different from selling face-to-face or on the phone.
Selling on the trade show floor is very different than in the field and requires specific techniques. This program will identify those techniques and provide you with trade show selling skills that give you the results you want – increased sales, higher commission checks and a significant impact in your bottom line
Trade Show Marketing and Advertising Strategies
Christine Corelli holds over twenty-five years experience in the trade show arena. She will provide you with information and ideas on what works and what doesn't at a trade show. You will learn highly effective trade show selling techniques that can make all the difference between success or failure in your trade show endeavors.
What You Will Learn:
-Highly Effective Pre-Show Marketing and Promotional Strategies How to Create a Smart Trade Show Strategy
-Gimmicks and Giveaways That Lure Visitors into the Booth
-Surefire Tactics To Get Your Best Customers and Most Desirable Potential Prospects to Want to Visit Your Booth
-Effective Exhibits and Displays For Your Show
-How to Staff Your Booth With The Right People
-Your Preshow Booth Staff Meeting – What to Communicate – Do's and Don'ts at the Show and in the Booth
Selling on the Trade Show Floor
-For Trade Show Sales – Project the Right Stuff at The Trade Show
-How to Get Trade Show Visitor to STOP Walking and START Talking to You
-How to Qualify Visitors Fast and Avoid Wasting Time With The Wrong People
-How to Deliver a Compelling Presentation With Words That Influence The Customer to BUY
-Effective Trade Show Sales Communication – Asking for the Order, Gaining a Commitment, Responding to Objections and more
-Networking Techniques to Apply at Trade Show Hospitality Events
– How to Follow Up
-Highly Motivational Close
This trade show sales program can be presented as a break-out session or ideally, a half-day or full day program. It can also be presented  as a Trade Show Booth Selling Skills and Techniques program for your booth staff.  Here's what Tim Daro, PR Firm and Consultant to Siemens – "Thank you for a great trade show sales program. You really handled our seasoned sales pros well, and they were motivated to sell at the show."
Note:  Christine often presents this show with Doug Dvorak, her strategic partner. Audiences love the high energy interaction.
Call now for information on this dynamic trade show sales marketing and strategies and trade show selling skills training program. 
 (847) 477 7376