Everything starts and stops with leadership!  Do you agree?  You Should. And if you do, you will be among the smartest executives, managers, and business owners who provide leadership training for their people. Consider this: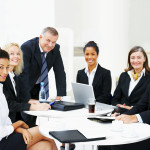 How do you rate in the five essential facets of leadership?
1.  Create the vision, mission, and a smart competitive strategy.
2.  Communicate #1 throughout your organization and establish a "buy-in"
3.  Implement changes necessary to create and sustain success.
4.  Sustain the momentum through employee motivation
5.  Execute your competitive strategy
What would your employees rate your leadership style?
Which style is best?
How can you lead in a way that gets the most out of your team and gets them to be accountable?
Whats the magic that makes employees want to follow your lead?
How to you make them want to excel in their job and think and act as your brand ambassadors who serve you, your customers and each other exceptionally well.
Leadership Training Experience
Speaking from her depth of experience working with today's most successful leaders across the globe and in a wide-variety of industries, noted author Christine Corelli will provide you with answers to these questions and much more. She will help you solve problems and make a difference in your store or business.
Christine Corelli is a firm believer that everything starts and stops with leadership, and that every executive, manager, supervisor, etc. should lead the same way and under the same guiding principles. She also believes that your values should drive all you do.
This leadership program will help you learn how to display dynamic leadership in a variety of business scenarios, communicate at the highest levels, solve problems and learn how to implement change in your organization.
Leadership Training 
Like all of Christine's presentations, your program will be highly customized for your company or association. It can be presented as a keynote, break-out session or leadership training program.
This leadership training program or break-out session has received the highest evaluations at numerous association events and businesses.
Leadership Requires Execution
The program has a strong focus on execution.  
Developing Your Leaders, Emerging Leaders, and Women in Leadership is Not Optional It is Critical to Your Success
— Check out — http://chicago.leadershipusa.biz —
A Unique Approach To Leadership Development!
LEADERSHIP USA™ CHICAGO functions as an outsourced training resource for small-to-medium-sized companies and as a supplement to established leadership programs within larger corporations, which is the case for the majority of our members.
Since it can be cost-prohibitive and time-consuming for companies to bring instructors in-house each month, we bring them here to you. Membership allows your leaders and emerging leaders to interact with leaders from a wide variety of industries, attend seminars at reduced member rates.
LEADERSHIP USA™ CHICAGO will hold one-day leadership seminar each month (9:00 AM to 2:30 PM). These highly-interactive learning events are taught by engaging Hall of Fame speakers, highly-respected bestselling business authors, Certified Speaking Professionals, faculty from the top business schools, as well as your recommended educators. There are special sessions and events for your Women in Leadership as well.