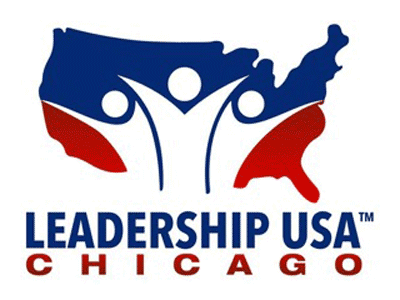 MEDIA CONTACT
Christine Corelli
(847) 477-7376
Christine@LeadershipUSAChicago.com
LEADERSHIP USA™ CHICAGO — Business Leaders; Kickoff Breakfast Briefing January 25, 2018.
"Everything starts and stops with leadership! And any business is as strong, or as weak, as their leaders.

Most people agree with those statements. But in far too many businesses, leadership has fallen by the wayside. Demanding, cost-conscious, service-savvy customers and fierce competition has caused many leaders to have little, if any, time to think about their ability to lead. They are too consumed with day-to-day operations, exceeding customer expectations, and their bottom line. Rarely do they stop and think about how much more productive and profitable their company could be if they stopped and paid more attention to the importance of leadership development.

Of course, this is not the case for major corporations that have made leadership development a priority for the past decade. They recognize that it's their human capital that will carry them into a successful future, and that dynamic leadership throughout the organization is critical to success. They provide training for all of their leaders, emerging leaders, and women in leadership. They also have special events for each group. Very often, however, their training and the competencies they have in place can be lacking in key areas, and if supplemented by an outside source, their training efforts can be far more effective.

In addition, due to rapid change, today's leaders need a variety of platforms and experts to learn from."
These are the words of Christine Corelli, https://www.christinespeaks.com, veteran speaker, author, and consultant who has spent 25 years working with some of most successful leaders across the globe.

On Thursday, January 25, 2018 LEADERSHIP USA™ CHICAGO Christine will host a highly-interactive informational networking breakfast at Maggiano's Oakbrook, to discuss the daunting challenges facing today's leaders.
All who have responsibility to develop such leaders are invited to attend. A complete hot breakfast – Maggiano's style will be served.
There is no cost to attend, but advance registration is required. The meeting begins at 8:30 A.M. and continues until 10:30 A.M. Registration begins at 8:00 A.M.
During the meeting Christine will involve attendees in discussions on leadership.  She will also  provide information on LUSA CHICAGO and why their program is truly unique, affordable, and provides more value than well-known training programs.
Laura Stack, MBA, CSP, CPAE, the founder and CEO of Leadership USATM, Inc. (the Chicago region's parent organization), will attend the event. She will explain the vision behind this innovative membership organization. Stack is a highly successful Hall of Fame speaker, bestselling author, and respected authority on productivity.
LEADERSHIP USA™ CHICAGO will be hosting monthly in-person seminars presented by award-winning, dynamic speakers and leadership experts most organizations could never afford to bring into their companies.
If you are a business owner, executive, HR professional, OD, or talent manager who is in charge of developing your leaders and would like more information, or would like to register for the kick-off breakfast, visit leadershipusachicago.com, or call (847) 477 7376.
ABOUT LUSA-Chicago
LUSA-CHICAGO is an education and networking organization devoted to helping companies transform their middle and senior managers into truly outstanding leaders. It is a region of Leadership USA, a national membership-based leadership education organization offering monthly, in-person, high-quality development seminars for member companies, featuring world-class, engaging, professional presenters with deep expertise — often bestselling authors — on diverse topics. The offerings of LUSA-SV are designed to supplement member companies' established leadership programs and provide an outsourced leadership development resource for small-to-medium-sized companies. Learn more at: www.LeadershipUSAChicago.com.