Competitive Strategies Sales Strategies Business Development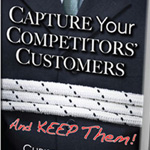 These are challenging but extraordinary times. "Business as Usual" is over! Based on Christine's book of the same title, this fast-paced program shares smart strategies business owners and sales professionals have applied to obtain the business and loyalty of their competitors' customers.
Christine questions, probes and challenges business owners to kill the Status Quo and implement necessary changes to create and sustain business success.
This program can be presented in keynote, break-out session, or hands-on workshop format.